Witness the Power of Montessori Teaching: Curriculum Night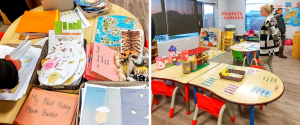 At Bradford Children's Academy (BCA), we believe that every child is unique and special, and we strive to create an environment that nurtures their individuality and supports their development. We understand that every child develops at their own pace and has their own strengths and weaknesses, and we work to create a learning environment that is tailored to each child's needs. To that end, on March 16th, 2023, Bradford Children's Academy held its Curriculum Night to celebrate the unique qualities and accomplishments of each child attending the academy.
The event brought together the school's faculty, staff, and parents, creating a joyful atmosphere of celebration and camaraderie. During Curriculum Night, the focus was on recognizing the value of each child's social, cognitive, and physical development. Parents were thrilled to witness the amazing progress their children had made in a nurturing environment designed to foster comfort, cooperation, and education, all in line with the Montessori school philosophy. It was a night filled with excitement and pride as parents and educators observed the progress their children had made over the school year, and we are delighted to announce that the event was a resounding success.
The evening highlighted the importance of creating a friendly, loving, and nurturing environment that supports each child's unique needs and strengths. It provided parents with an excellent opportunity to learn more about the curriculum, teachers, and classroom environment. Furthermore, parents had the chance to connect with their child's teacher, gain insight into their child's progress and development, and ask questions to better comprehend the Montessori philosophy and approach. It was evident that the Montessori school philosophy was at the core of everything BCA does, as the children were happy, engaged, and excited to show off their work.
Discovering What Matters Most at Bradford Children's Academy Curriculum Night
Bradford Children's Academy (BCA) believes that education is a collaborative effort among parents, educators, and families and is dedicated to providing the necessary support and encouragement to help each child reach their full potential. With that in mind, our Curriculum Night served as an exemplary demonstration of collaboration as parents and educators engaged in meaningful conversations, sharing observations, insights, and strategies to support their children's development. Furthermore, parents were able to attend informative presentations by the academy's specialists in music, art, and physical education, demonstrating the crucial role these subjects play in a comprehensive educational experience. This open dialogue provided a valuable opportunity for parents and educators to collaborate, ensuring the best outcomes for each child's academic, social, and emotional growth.
Furthermore, at our curriculum night, the classrooms were decorated with a variety of student artwork and writing assignments. These presentations showcased the remarkable skills that students had acquired, providing parents with an excellent opportunity to appreciate their children's overall academic and personal growth. Additionally, parents were impressed by the wide range of enrichment activities offered at our academy, such as our language program, hands-on music program, yoga and Pilates, drama program, and computer and technology program. They particularly valued the emphasis placed on critical thinking and problem-solving skills, which were characterized by these programs as well as the students' work on display. In short, our Curriculum Night was a valuable opportunity for parents and early childhood educators to come together and celebrate their children's hard work and progress in a warm, welcoming atmosphere.
To that end, Curriculum Night at Bradford Children's Academy provided an excellent opportunity for parents and early childhood educators to celebrate their children's achievements and foster a collaborative relationship. The event was designed to be both informative and enjoyable, showcasing activities and projects that highlighted the children's creativity and problem-solving skills. It also emphasizes the academy's commitment to creating a caring and supportive environment that prioritizes children's social, emotional, and academic growth. By bringing parents and educators together, the event reinforced the importance of working collaboratively to ensure the best outcomes for children.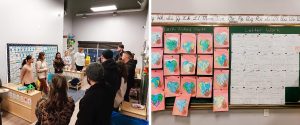 Nurturing Confidence and Creativity at Bradford Children's Academy
At Bradford Children's Academy, we prioritize the Montessori approach, which emphasizes giving children the freedom to explore their interests and nurture their natural curiosity. Our recent Curriculum Night was a testament to the success of this approach, as the impressive works on display showcased the students' independence and confidence as learners. The students exhibited a wide range of skills, from creative artwork to problem-solving skills, from math problems to science experiments, demonstrating their love of learning.
That said, our curriculum is designed to support each child's development at their own pace, in accordance with their individual needs. The Curriculum Night showed how this approach has helped our students become confident and independent learners who are eager to share their work with their parents and are proud of their accomplishments. The event was a joyous celebration of the children's achievements, reminding us that learning should be fun and enjoyable.
Overall, the Curriculum Night was a great success and highlighted Bradford Children's Academy's commitment to providing an exceptional education for its students. This showcased our dedication to providing a positive and enriching educational experience for each child and demonstrated how our approach fosters the growth and development of our students.